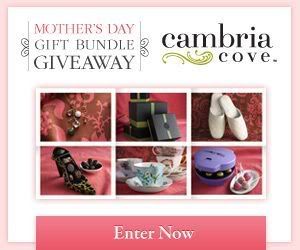 Kitty cats, Sophia Loren said it best when she stated,
"When you are a mother, you are never really alone in your thoughts. A mother always has to think twice, once for herself and once for her child."
Now, thanks to
Cambria Cove
, all of you lucky ducks have the chance to show your mothers that the very opposite is true, as well, by entering the
Mother's Day Gift Bundle Giveaway
!
Cambria Cove has put together
six (6)
handpicked pampering gift packages
"each designed to suit unique moms."
Gift packages include:
♥
Jewelry Treasure Trove
-
"For the mom who wants her jewelry to be beautiful and meaningful, this collection is filled with pieces that she'll wear forever."
♥
Serenity Spa Collection
-
"It's Mom's turn for 'time-out.' With this package, she can treat herself to a spa facial every day while wearing the softest sleepwear and savoring Voluspa's luxurious scent."
♥
Completely Glam Grab Bag
-
"Chic moms will love this collection—especially pieces from 'it' designer Alexis Bittar. The decadent, finishing touch? A High-Heel Pump filled with Assorted Chocolates."
♥
Breakfast in Bed Bundle
-
"From start to finish, it'll be a Mother's Day she'll never forget. From breakfast on fresh, floral-themed servingware, to the comfort of Yala's super-soft sleepwear."
♥
Sweet Baking Assortment
-
"This collection is a sweet recipe for memories. Mom and the kids will love donning the adorable aprons and making frozen yogurt and Cake Pops—the trendy treat sensation."
♥
$750.00 Shopping Spree
-
"Whether she loves pampering indulgences, practical gifts, or both, she can shop to her heart's content for everything she loves."
Enter Cambria Cove's
Mother's Day Gift Bundle Giveaway here
. Now, tell me, my loves, which Mother's Day Gift Bundle would your mum adore?
Fashionably yours!
Thanks to
Cambria Cove
for the pictures.