In this time of recessionista fashion, I have found that the plain white tee has become my new best friend. It is the crème de la crème of affordable tops, and manages to go with just about everything in your wardrobe. Placed under a prim blazer, it is ideal for work. Worn with a denim mini it is flawless for a day of shopping or an afternoon at the beach spent languorously soaking up the sun. Topped with long necklaces or a cropped vest in a contrasting color it is quintessential for a girls' night out or an impromptu movie date. Now all that's left is finding the right one for you.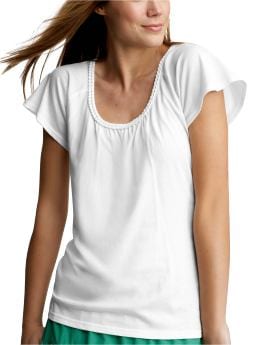 GAP "Flutter Sleeve Braided T"
As if being an affordable plain white tee weren't perfect enough, this
Flutter Sleeve Braided T
already comes adorned with a delicately braided scoopneck in addition to flutter sleeves, and a lightly ruched front. Together these three qualities give this otherwise plain white tee a romantic, flirty air that requires no dressing up. Just slip on and go!
Target "Juniors' Mossimo Supply Pocket V-Neck Tee – True White"
Not to be biased but, I own twelve of
these
shirts (3 white, 1 pink, 1 electric blue, 2 navy blue, 3 hunter green, 1 gray, 1 light green). It may sound excessive, but these tops are the staple of my wardrobe. The v-neck is just right (not too low, not too high), the color is optimal (not see-through, but still very light, airy, and weightless), and the fit is simply wondrous (form-fitting yet baggy in all the right places). The little breast pocket is a rare feature, yet one that is totally treasured; and the longer than usual length gives you the option of turning this top into a tunic, or making it hit right at your waistband. The best part? At just $8.00 you'll have enough saved over for a little something extra – a piece of jewelry perhaps?
Nordstrom "TWEN-TEE Extra Fine Knit Tank"
When it comes to tank tops, typically I just say no; but
this
one is actually pretty cute. I'm obsessed with the fact that the white trim is thicker than that of the rest of the top, providing an ever so slight contrast between the two shades that is classic and lovely. It doesn't hurt that this tank doubles as an excellent piece for layering, so it won't go to waste once the weather turns chilly.
Urban Outfitters "BDG Dolman Tee"
As a proud, card carrying member of skinny jean lovers anonymous, I can never stress enough just how much I adore the look of a loose, oversized top paired with the denim dreams. Hence the reason why it only took a minute for this
BDG Dolman Tee
to catch my eye. The winter white shade is sheer, but not see-through. The neck is wide, slightly mimicking that of a ballerina or boatneck tee; and the dolman sleeves are the perfect middle ground for someone who doesn't want to hit the three-quarter mark, but isn't crazy about super short sleeves or a tank. The end result is this $32 dazzler.
Revolve Clothing "Blue Life Departure Tee in White"
I can't help but see the asymmetrical hemline as an idealistic way for adding a little wild child to your wardrobe; and this
Blue Life Departure Tee in White
does a wicked job of doing just that. There's something so fetching, yet completely laid-back, relaxed, and cool about slipping into something with an asymmetrical hemline. The cut manages to project self-confidence and effervescence with just one wear; yet it retains a very comfy, beachy vibe which makes it very versatile, and a must for your wardrobe.
How do you wear your plain white tee?
Fashionably yours!
Thanks to
GAP
,
Target
,
Nordstrom
,
Urban Outfitters
, and
Revolve Clothing
for the pictures.