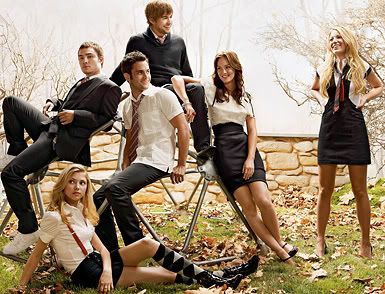 In honor of my last few days of freedom before the Spring 2009 semester starts, I'm going to do something that I've been planning on doing since September - watch the entire first season of
Gossip Girl
on DVD. It will be my first ever Gossip Girl Weekend.
I will don no shoes, and cast aside my patent leather handbag for two days, trading these beloved items for flannel pajamas, thick slipper socks, and the remote control. I already have enough
Candy Cane Lane
,
Gingerbread Spice
, and
Nutcracker Sweet
tea on hand to last me a lifetime. There's only one thing left to do...choose sides -
Team Blair
or
Team Serena
.
I think I know where I stand. Where do you stand?
Fashionably yours!
Thanks to
Photobucket
for the picture.