I've always fancied myself as someone who would take up residence in a Park Avenue penthouse, a San Francisco firehouse turned trendy loft, a Seattle high-rise situated above a chic café, a sprawling Hamptons hideaway, or a cute cottage in the English countryside – possibly all five. But maybe I spoke too soon. Perhaps my true future home lies more along the lines of...retail. More specifically, the three-story
Topshop
that has finally decided to open its doors to all of America on New York City 's Broadway and Broome.
Flowers hanging from the ceiling, tutu-like skirts, and a hippie headband. What more could a girl ask for?
Outside, enough windows to light a palace; inside, enough clothes to keep me satisfied for all of eternity.
Carrie Bradshaw would have a field day in this shoe department. Come to think of it, so would I!
Pristine white fitting rooms that are cutting edge and could easily double as cozy little guest bedrooms should my friends and I decide to throw an impromptu slumber party!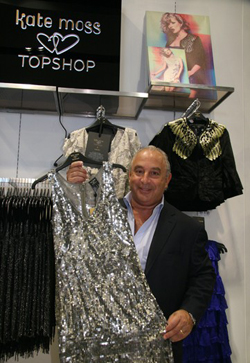 And to top it all off, Topshop's proud parent Sir Philip Green and a sequin mini. Please Sir, can I have it?
Yes, I believe that I have made up my mind. Topshop NYC is my new home away from home. It is a fashionista's playground. And now, it is only 2,780.17 miles away from my humble abode – a mere 42 hours and 9 minutes via plane (I should know, I Mapquested it). Looks like a Springtime in New York is in order!
Fashionably yours!
Thanks to
Refinery 29
and
My Fashion Life
for the pictures.