I've always wanted to be a spy. Or a detective. You can blame it on long, lazy adolescent summers spent lying in fields of daisies accompanied by
Harriet the Spy
,
Nancy Drew
, and
Trixie Belden
. It never happened though. Instead, I simply developed an infatuation with trench coats. There's something so chic, yet completely mysterious about trench coats that makes you feel like you're undercover, even if you're just window shopping or schlepping a cart through a grocery store stocking up on canned goods. The funny part? I've never actually owned a trench coat of my own. Instead I've just admired them from afar. I think it's time that changed.
I completely understand that if you're trying for an incognito look – much like my beloved childhood pal, and Plaza Hotel resident
Eloise
– it's probably not a good idea to opt for a trench coat that is the same cherry red color of the
Corvette
bought during the beginning throes of a midlife crisis; but I can't help it. The
Fendi Cotton Babydoll Trench
is simply calling my name, and, I'm sorry to admit, I plan on answering.
When I think of a true detective trench coat, this
Church & State Maine Trench Coat
is exactly what comes to mind. The fact that the bib is removable and the button closure is reversible gives it a two-in-one appeal. But aside from those glorious features, I just want to see it tossed over a chic little spring dress and paired with
ankle strap ballerina flats
. I can't help but feel that it would be an adorable pairing.
Correct me if I'm wrong, but I think I may slowly be falling in love with military styles. Case in point, this
Burberry Empire Trench
. The bodice alone is a full-on tribute to the military with a double breast that includes not three, not six, but ten (count them) ten chunky (and chic) horn buttons – and that's not all. This adorable dove-colored offering also features pockets and buttoned cuffs. I know this may be wrong, but I'm not sure if I would treat this as a coat – it's a complete outfit in itself!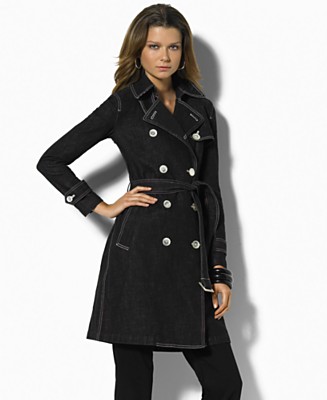 I saw someone wearing this
Lauren Jeans Co. Denim Belted Trench Coat
just the other day. I fell in love with it then, and I've fallen in love with it all over again now. I love, love, love the contrasting stitching; but the fact that it's denim – yet looks completely sleek, chic, and magnifique paired with black, white, or any other color imaginable – makes me need, need, need it.
I honestly don't think it's appropriate for any girl to go through life without a little lace in her closet. Therefore, this
Rampage Lace-Trim Trench Coat
is kind of a necessity in my book. The lace trim provides an otherwise oftentimes masculine look with a little dainty femininity that is sassy, sweet, and fierce all in one.
Which one is your favorite?
Fashionably yours!
Thanks to
Net-A-Porter
,
Frances May
,
Burberry
, and
Macy's
for the pictures.